Revolutionize Your Kitchen with Our Innovative Modular Kitchen Solutions in Singapore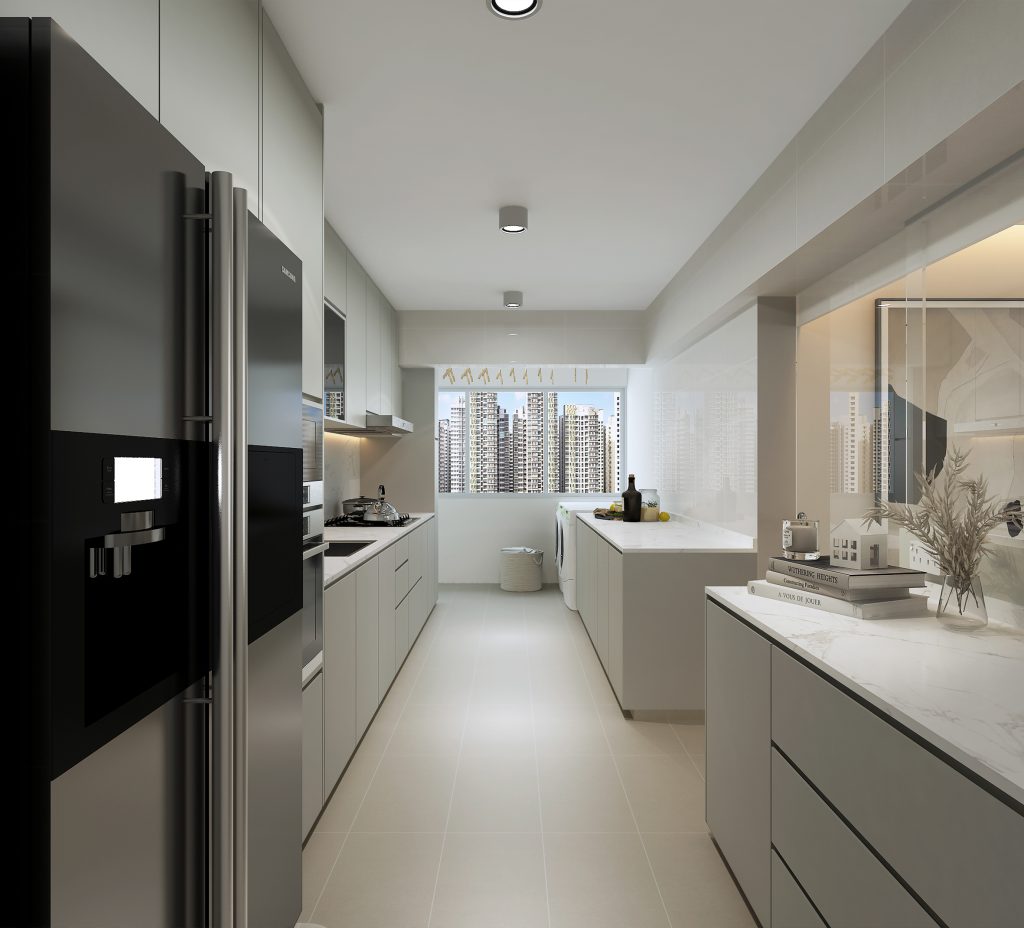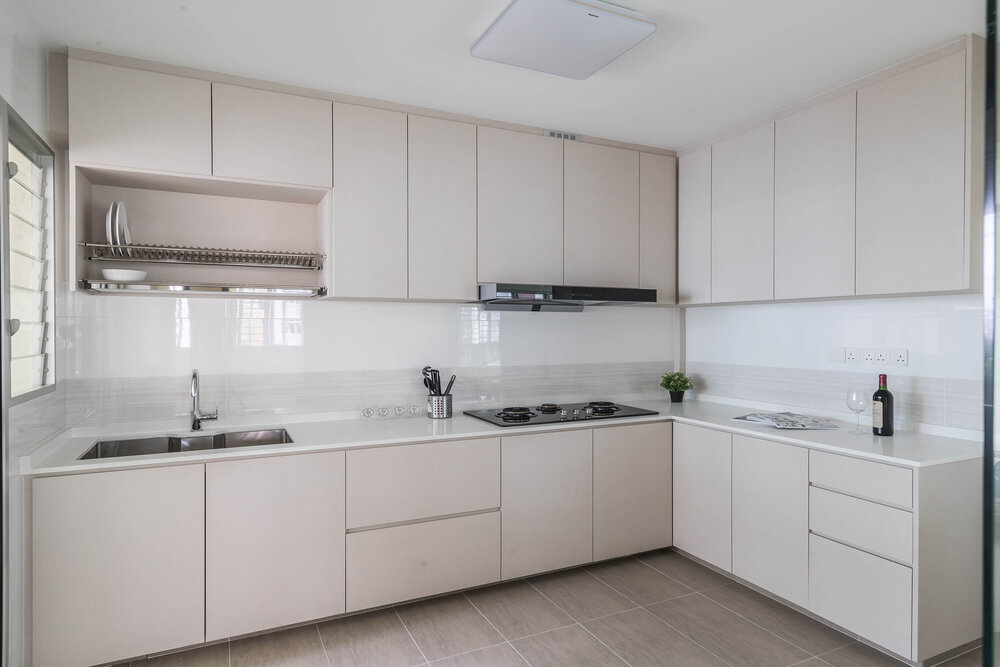 Kitchen designs have evolved over the years, with modular kitchens emerging as a sought-after choice for home owners everywhere. Modular kitchens is a popular concept in contemporary homes, as the design can seamlessly blend with the overall décor of the house.
The modular kitchen consists of small sections or modules which are accumulated together to form a complete kitchen. Modular kitchen is a contemporary concept of kitchen which comprises of drawers, cabinets and shelves organized in a manner that saves up on a lot of space. These kitchens are modern and convenient in terms of organizing limited spaces, especially in the apartment-style living spaces of crowded cities.
There are bottom and top cabinet depending on where you'd like the cabinets installed. speedy modular kitchen, all the cabinets are made of high quality plywood and even the tabletop at times.
Modular cabinets are cabinet-modules featuring high quality plywood materials assembled in a delicate manner. Modular cabinets are favoured today because of their compactness and ability to store more than regular kitchen cabinet cupboards.
What is a modular kitchen and why is it popular?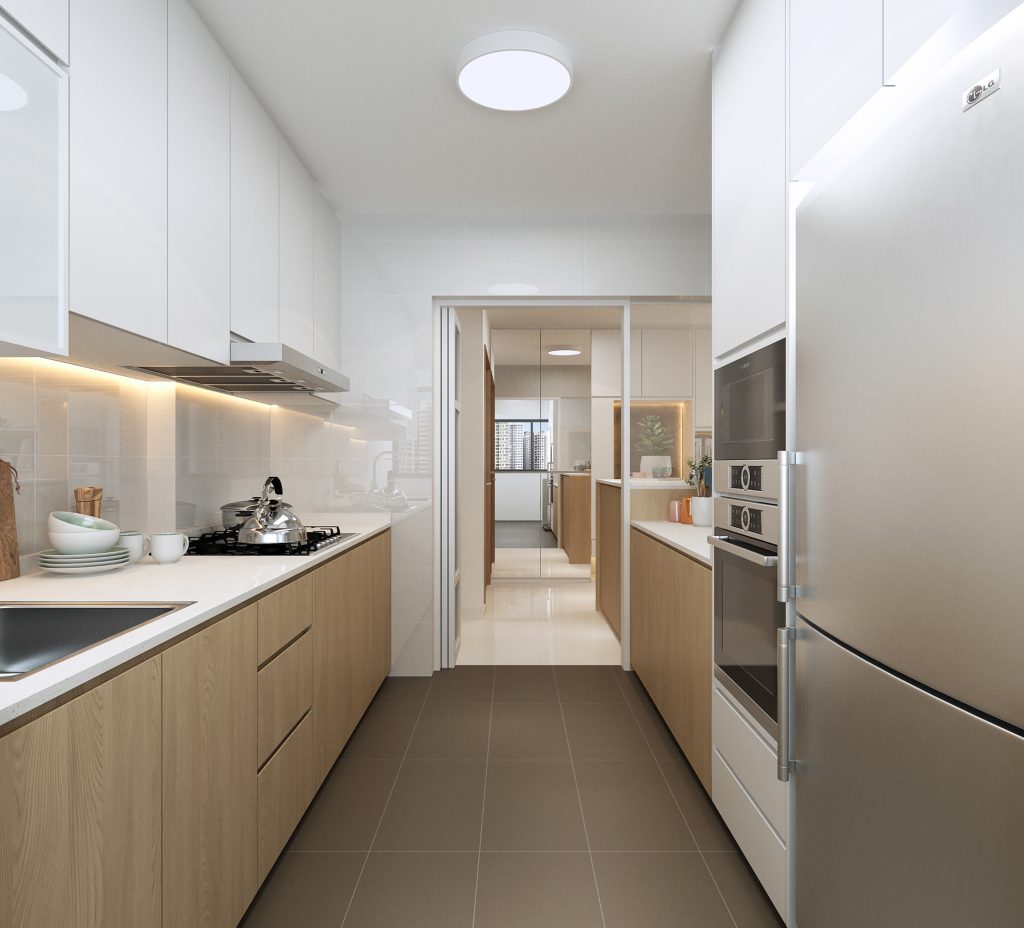 Modular kitchen, meaning a kitchen that includes small sections or modules which can be attached together to build a complete kitchen, is a contemporary concept and is fast replacing traditional Indian style kitchens. These kitchens include pre-designed furniture units and are well-suited for modern spaces, giving huge scope for customisation.
The kitchen design consists of drawers, countertops, kitchen cabinets design, micro-compartments and shelves that can be arranged to save a lot of space and to create an organised kitchen. Such kitchens are a convenient décor solution for all kinds of homes, especially smaller ones with limited space. Moreover, the setup provides convenience in terms of assembling and transportation. You get flexibility in terms of the modular kitchen themes, price, colours, finishes, designs and patterns.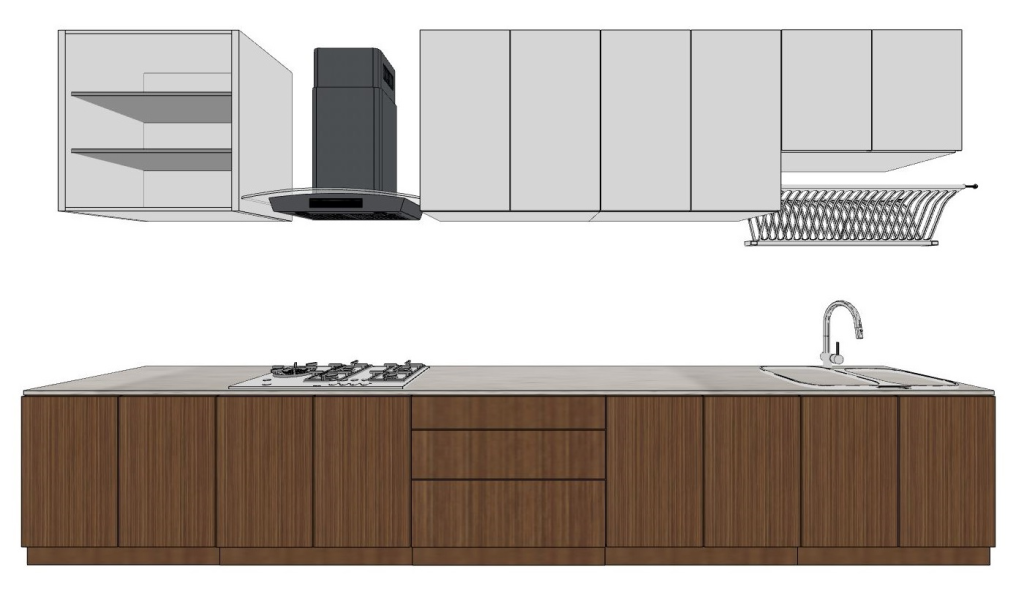 Speedy Modular Cabinets pros
Quick to install, we can very quickly be installed into the kitchen space.
Modular kitchens are easy to assemble, disassemble and reassemble.
Speedy modular cabinet depending on where you'd like the cabinets installed.
Designed as standardized components, each unit is made to fit together to create a whole, functional kitchen.
The units are pre-built, modular kitchens tend to be more cost effective than custom built kitchens. since modular is standardized measurements, cabinets can be changed, upgraded, or replaced without having to redo the whole kitchen.
Cabinet look is simple, but very attractive and durable.
Owner no need to install, we provide door-to-door installation service.
Custom made appropriate you kitchen cabinets area, don't worry modular cabinet not fit in you kitchen.
Supply to install appliances (e.g.-sink, tap, hob, hood and dish rack).
Owner also don't worry plumbing and electrical connections works.
All the kitchen bottom cabinet include kitchen base.
It is a perfectly fine, stable, strong substrate for cabinet boxes and it can bear tremendous weight.
Plywood construction might have a slight edge in water resistance (e.g.-inside a sink cabinet) but no cabinet of any type of construction can withstand long-term immersion in water.
Modular kitchens is that they can be assembled and reassembled. This means that every time you move home your kitchen comes with you.
Owner can select what table top material they need. and upgrade (additional cost) to other premium table top such as marble, quarts stone and granite.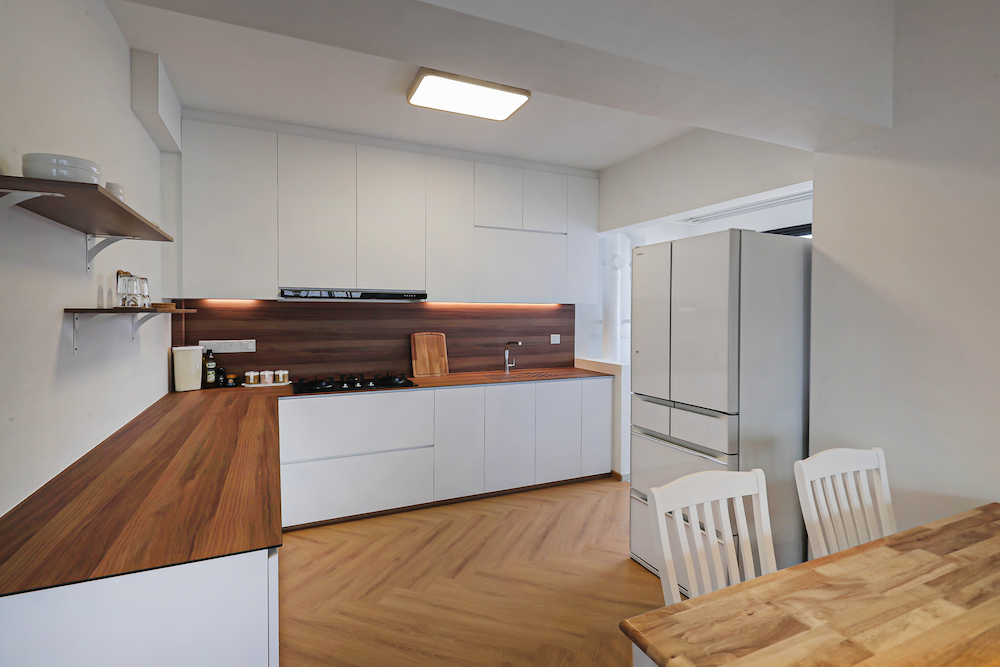 How to Buy a Modular Kitchen?
If you live in a place where space is limited, you may benefit from a modular kitchen. Modular kitchens are composed of prefabricated units that can be combined as you wish. A modular kitchen will provide you with plenty of space for storing dishes, flatware, utensils, spices, and pantry items. You can customize every aspect of the kitchen, from the height of the countertops to the composition of the flooring. Modular kitchens are highly durable, and individual components can be replaced if necessary, while leaving the rest of your kitchen intact.
Measure your existing area of where you would want to have your kitchen cabinet, choose the layout for your kitchen. The layout and shape of the kitchen play a crucial role in space utilization. The most common kitchen shapes are L-shaped, U-shaped, straight (or galley), and parallel.


---

Choose laminate materials. The top, bottom, and side panels of a unit — will be made out of the laminate material you select. The front of the unit can be customized with different finishes to match your style and decor.


---

There are numerous options when it comes to choosing the bottom cabinets your units, will be made from you. (Kitchen bottom cabinet depth = 580mm) Think about how long you want your modular kitchen to last as well as your environmental conditions. Select the materials for your tabletop. Countertops can be made from laminate or quartz, premium quality quartz stone is the best option as it resists heat, scratches, and stains and protects against mold and mildew. It also offers an endless variety of different patterns of veins, specks, and swirls.


---

Pick the colour for your quartz stone tabletop. (If you has selected cabinet with quartz stone tabletop)


---

Select your top cabinet application unit. (Kitchen top cabinet depth = 450mm)


---

You mush select the cabinet base, if you no need the base please select the "None" option.


---

Choose the hardware (Hinges and runner) – Coming from our company experience, always choose a good hardware brand. The hinges, drawer and cabinet material and mechanisms can make your experience with the modular kitchen a bliss or misery. Nobody likes to see the drawers cropping new problems now and then. And people like to avoid the screeching noise from the busted ball bearings in the drawers as well. Invest in a good brand like BLUM. I have used of it and they have proven to be more reliable than the others (that's why I chose them).


---

Factor in plumbing. Decide where you'd like your sink to go so that proper plumbing can be set up, As one of the Singapore leading plumber, we know how to do the job right at the most affordable prices in the industry. You can count on us to be your plumber. We have the knowledge and experience to get the job done right.


---

We are able to purchase and install a new sink, tap and cooker hob for you with an economical budget. you use our appliances, would be better. because cut-off size the table top have a lot of dust. used our appliances, our carpenters can cut directly at the factory rather than at your home. we are a interior designer company. and our price are cheaper than market, because we get the goods directly from the supplier.


---

Excel hardware – Making your home life easier. you spend a better part of your home life in the kitchen, It's better to make it as ergonomic as possible. Excel Hardware is a renowned brand whose kitchen paraphernalia is designed to solve all your big and small problems.


---